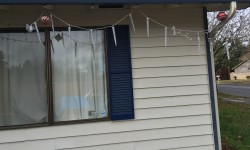 It is the Christmas season and today we hang the lights and ornaments around the house. It's a week later than I normally do it but things came up last week. I love the big house ornaments. To me there is something festive and joyful about them. Thankfully they are plastic because I dropped two of them three times today trying to get everything situated. It's important, once you've found the lights from last year, that you lay them out and check that they work. Watch where you step, those glass bulbs look small but when they break they create a pile of shards that rivals Mt. Rainier. Kind of like when you step on a Kix (cereal) in the kitchen. It defies all logic and reason. But I digress. Once you've laid out the lights and replaced any nonfunctioning bulbs it's time to hang them.
One of the best things I ever bought was an extension pole to help hang the lights and ornaments. Before I got the pole I would be climbing my stepladder at every attachment point. My legs would ache the next day. It never helped that I would have to hang them basically twice. The first time I'd either hang them with the plug in end on the wrong side or with too much or too little drape in them. Either way it seems like there are always some adjustments that have to be made.
Now how you hang your lights is a matter of taste. A lot of people like to hang them tight against the line of the eves. I, for reasons I cannot explain, like a bit of a drape about them. The important thing is that you like your decorations. They should bring joy to you and your family. We have a Christmas T-Rex that will be set up next weekend. It's adorable. Ours is old but here's one I found for you if you're interested.
With the weather getting cold it as finally forced me inside until it warms up a bit. Here's the thing, I have a green thumb outside but inside I cannot keep a plant alive to save the galaxy. It's a sad thing but that's how it goes. So indoor gardening is right out for me. After many years of trying to keep indoor plants and watching them slowly die, I have one, singular christmas cactus that seems to survive (I will not say thrive). It blooms every Christmas and I leave it alone to do its thing. I would like to give it some TLC (transplanting to a new pot for example) but I have such a bad track record with indoor plants that I'm afraid to touch it, this is probably what has saved it's life.
So during the winter months I've decided to turn my attention to some much needed home repair. Every home needs maintenance and unless you are related to a handy person or know one with time on their hands, you have to either hire someone to do it or do it yourself. Although I'm not technically handy, I'm willing to learn and I do know the difference between a crescent wrench and an allen wrench as well as a phillips screwdriver and a slotted screwdriver (also I know that a sonic screwdriver is not indicated in this application). So I'm not completely unfamiliar with tools but I'm not far off.
While I am fearless in the garden I hesitate to do anything to the house, due to my lack of knowledge and practice, and it is way past time I get over that hang-up. We will start with something that is mostly labor, because that is the most expensive part of most projects and carries the least amount of risk. So I intend to get up into my attic and clean out the old insulation and debris and lay down new insulation.
Research is a critical component of any project, especially if it is new to you and you are learning as you go. You simply must know what the project will entail and what to expect as far as possible pitfalls. For example, I read that it is best to use a piece of plywood or something to bridge at least 3 of your rafters to prevent falling through your ceiling if you have an unfinished attic. This makes sense but I would have probably tried, and failed, to balance on the beams. So that little bit of reading saved me the added anguish and expense of repairing a me sized hole in my ceiling at some point (and potential injury).