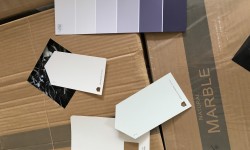 After a long absence from blogging I am back. I do apologize for the derth of posts in the last 6 months, gentle reader. Rest assured things have continued on. The remodel project has grown, along with the budget. Since it'll take me approximately forever to save up the cold hard cash for all of these projects I'm starting small, prioritizing and shopping for the best deals I can find.
We decided to start on the inside in the bathroom. It was old, 70's style and small-ish, not tiny but not large either. We're mostly doing this ourselves so it is very slow going. What it's costing us in time is saving us quite a bit in labor.
When calculating the budget I also included the design and everything one would generally pay for if they had someone else come in and do the project. There is no reason to ignore design costs just because you are doing your own design–it gives you a more accurate idea of how much money you save by doing certain things yourself.
To calculate the budget I googled the average cost in my area for each piece of the project I'm looking at doing. This gives you a realistic starting point for saving up to have something done without breaking your overall budget.
When starting a remodel it's wise to figure half again as much of your budget for unexpected surprises. For example in the bathroom, since it hadn't been remodeled ever and it had all of its original fixtures, and the house was slapped together in a hurry I expected water damage, mold, and the normal things one finds behind the tile in a bathroom. The flooring was cheap linoleum, ugly cheap linoleum, I expected bad things in the floor.
When we pulled the tile off the walls (the only tile in the bathroom was the surround around the bathtub/shower) it had been put on straight drywall, not even backer board for tile. As things go, a very minor surprise but it made us worry about where we might find mold or water damage.
That all being said, we were pleasantly surprised to find very minimal water damage. The floor was pristine, and there were only two spots of damage on a stud. We didn't even have to replace it the damage was so small–just a little discoloration.
Since the bathroom is small we chose a tub with shelves for small items like shampoo and conditioner, washcloths, razors, shower gels and the like. Also we have to paint the walls white because white walls makes a space look lager than it is.
We are also going to cut a small shelving unit into the wall. It'll only be about 5.5 inches deep but we can make it the width of the space between the studs which will give us quite a bit more storage. It's enough for toilet paper, washcloths, toothpaste and other miscellaneous items that go in a bathroom. We'll put an illusion door over it so it won't just be some opening in the wall. It will go behind the door.
Now a stark white bathroom is boring, really, so we are going with black and white marble tile for the floor (and we're getting proper backer board) and oil rubbed bronze faucets. We are also selecting a trim for around the tub. It should be very modern looking when finished but with the oil rubbed bronze still a bit warm, rather than stark and cold.
It took quite a bit of searching but I found the tile on super sale, same brand, same style as I had found in a store, and I bought enough for both bathrooms in the house. Even though the next bathroom will have to wait quite a while for the remodel, at least I have the tile and with it being the same as what we're using in the first bathroom it'll carry a sense of continuity throughout the house.
This is a work in progress and it'll likely take several months for us to finish.